Weber Q BBQ 1200 Liquid Propane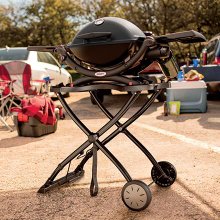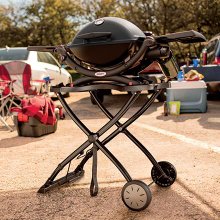 sold out
Weber Q BBQ 1200 Liquid Propane
WEBER "Q" 1200 Portable BBQ in BLUE, plus 6 more colours. New redesigned in 2014, with new features not to miss in a portable BBQ. Smaller footprint folds up easy to carry for picnic fits in car easy, or patio dining with on the cart. Dual Propane use, disposable bottle's or connect a hose for a larger tank. Electronic "push" to light, now that is called great. The Weber Team has been listening to my comments, this one now has a CAST IRON COOKING GRATE< plus this grate is Porcelain Enameled for easy clean up and a aluminum lid with thermometer build in. Two side table fold out's for setting cooking tools. Spec are stainless steel 8500-BTU burner, 189 square inch of cooking surface. Propane is disposable 14.1 or 16.4 bottles, or normal LP cylinder, as if I needed to tell you, all additional items are sold separately, but you knew that.
Weber made a portable fold-up Cart too, Like wow ! they considered everything for this new model.
We have too, see our line of special BBQ Dude Accessories we made just for this Weber Q.
BBQ Dudes Grill Mini Wok Basket, Babyback Rib Rack, Jalapeño Griller, Spatula Set, Cordova Cover, Adapter Hose, Tank Full Gauge, Instant Read Thermometer, Cleaning BBQ Brush all made smaller size and portable just for the Q.
PICK COLOR ON AMAZON BUY PAGE NOT COLOR SELECT BELOW
DO NOT CLICK HERE- USE AMAZON BUTTON BELOW
WEBER Q GRILL
PURCHASE TODAY $199. PRIME AMAZON SHIPS FREE
the Weber team comments are:
Restyled for 2014, the Weber Q 120 is now the Weber Q 1200. The grill has the same great performance and sleek styling, but adds new aesthetics that are both functional and fun, including larger grip handle and control knobs, ergonomic side handles, sturdy front and rear cradles, larger-sized fold-out side tables with greater rigidity plus the familiar Weber Q logo branded in the lid. Split grates allow for a grate/griddle cooking combination: Just replace one of the grates with the Q 1000-series compatible griddle (sold separately) and experience an unexpected way to prepare breakfast, lunch and dinner on your grill. The tall lid accommodates the grilling of small roasts and birds, while the large built-in thermometer allows you to monitor temperatures inside the grill. Durable, but lightweight, the cast-aluminum construction of the Weber Q 1200 makes this super-portable grill the perfect tailgating companion. Reliable starts are assured with the electronic ignition. Steaks, chops, burgers and dogs are easily handled, but a large variety of other foods may also be cooked at any temperatures from low to high. Just dial-in the proper heat setting by adjusting the infinite control burner valve. For grilling on-the-go, the Weber Q 1200 runs on disposable LP cylinders (not included). For at-home use an optional LP adapter hose for 20-lb. tanks is available as an accessory. May be used with Weber Portable Cart model No.6557. CART ORDER DIRECT AMAZON.